Wondering which is the best crypto portfolio tracker in the crypto market? Read on for our ultimate guide for the best cryptocurrency portfolio trackers in 2021.
The crypto industry and Blockchain have become an integral part of the global economies. The high volatility and daily price fluctuations in cryptocurrency markets mean portfolio trackers are an essential tool for both casual and professional crypto investors. They allow you to keep track of all your crypto investments at all times in just a couple of clicks. The best crypto portfolio trackers can be integrated with your crypto wallet and exchange accounts. This helps to keep all your financial assets in one place and portray the total value of your investment portfolio.
But how do you find the best crypto portfolio tracker for you?
Our guide will look into the top crypto portfolio trackers in the crypto market and help you choose the one which suits your needs best, depending on your investment style, risk tolerance level, or budget.
Crypto Portfolio Tracker
A cryptocurrency portfolio is software that manages your inventory of online currency investments. It helps you track each coin's performance and provides you with analytical tools. Many portfolio management systems offer live feeds and pricing updates from cryptocurrency exchanges or even alert you about significant market activities.
A crypto portfolio management app connects to various crypto exchanges, wallets, and crypto services and gives you a clear view of your crypto holdings, including your total portfolio balance. When you monitor all of your portfolio data and crypto portfolio market value in one place, you can make informed decisions on how or when to take profits or rebalance.
Benefits of Using Cryptocurrency Portfolio Tracker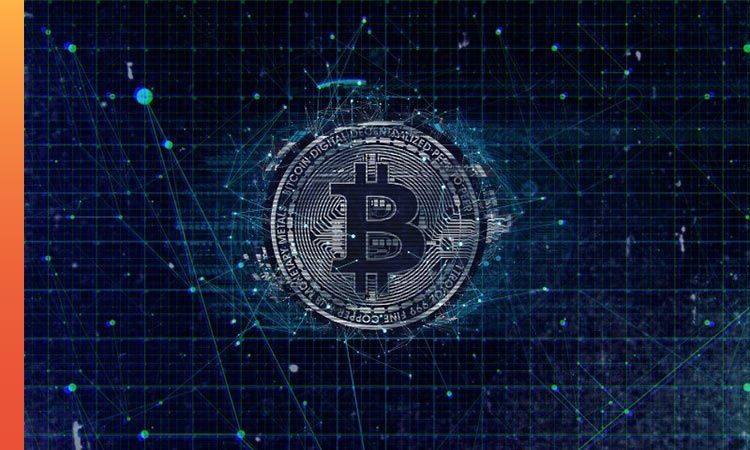 Allows you to instantly browse and get a pulse of the entire crypto market
Generates real-time reports on the loss or profit you make
Connects to your exchange accounts and wallets to give you real-time balances for all your cryptocurrencies
Helps you to easily manage your diverse crypto investment portfolios in one place, saving you time and effort
Gives you instant price alerts on crypto market movements
Allows you to track your investment performance, price, and charts
And much more
How to Choose the Best Crypto Portfolio Tracker
It is paramount to consider your personal preferences,  including your investment styles, goals, trading strategies, and coin watchlist, while choosing the best portfolio tracker for you.
Here are some key features to consider:
Supported Exchanges
Your crypto portfolio tracker must support all the major cryptocurrency exchanges where you have an account. This helps you automatically sync trades from multiple exchanges.
Supported Digital Currencies
Your crypto portfolio tracker should be able to support your preferred digital currencies.
Price
Crypto trackers can be free or with premium subscriptions. It is best to check what the plan offers and see what other crypto investors have to say about them for better services.
Dashboard
Your portfolio tracker must have a beautiful portfolio dashboard with an easy-to-use interface that can let you examine all your digital assets across different exchanges. It automatically reflects the movement of your trades by showing accurate values for your crypto assets in other exchange wallets and in custom time frames.
Security
It's essential to choose a crypto tracker with multiple layers of encryption, 2-factor authorizations, and other safety mechanisms to ensure your assets and private information are safe. Also, go for cryptocurrency trackers that only access your balance but not your funds.
Functionality 
Always go for cryptocurrency trackers that have several functional features beyond crypto tracking. One important feature to look for is swapping, as swapping via a tracker is both extremely secure and convenient.
Best Crypto Portfolio Trackers of 2021
In recent years, crypto has seen a rapid evolution; this is why you need regularly updated crypto trackers capable of catering the changing needs of the crypto community.
Scroll down for a list of the top crypto portfolio trackers in 2021.
CoinStats
Website: https://coinstats.app/ 
CoinStats is a popular cryptocurrency portfolio tracking app that lets you track and grow your crypto investment. You can manage your entire cryptocurrency portfolio from this single app.
CoinStats allows you to view your entire crypto portfolio, track your gains and losses, and find the next big coin with great potential.In addition to tracking, CoinStats keeps you informed on trending cryptocurrency news to help you make better decisions regarding your investments.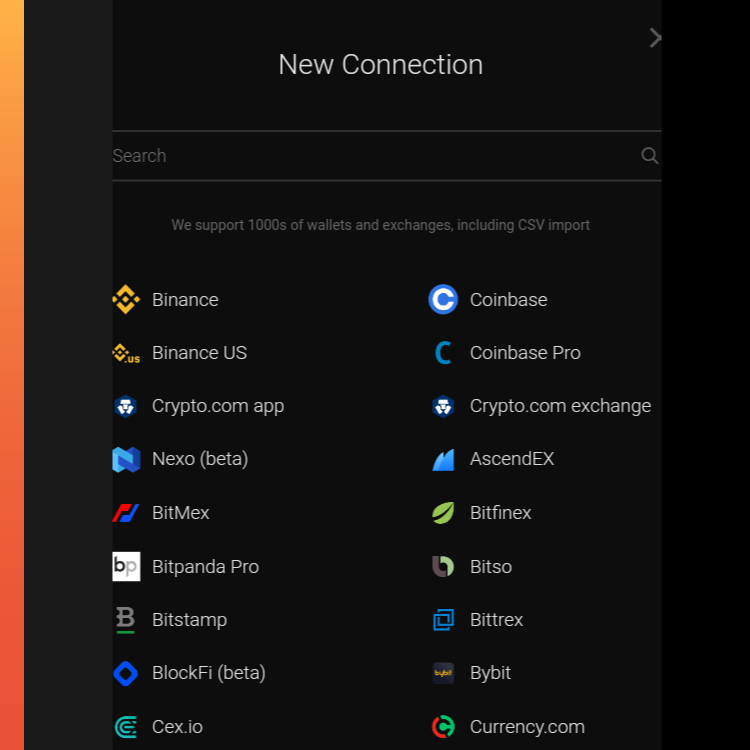 You can start buying crypto coins immediately once you link your exchange account, i.e., on Coinbase, to your CoinStats account. You can now trade crypto from all connected crypto exchanges from your  CoinStats account. This handy feature helps CoinStats eliminate the redundant logins you have to go through and reduces the risk of withdrawals.
With CoinStats, you can buy crypto with fiat currency using credit cards and instantly send them to an exchange or wallet. 
CoinStats can be used as a mobile app, extensions, widgets, Mac App, Apple TV, Apple Watch, iPod app, etc.
Key Features of CoinStats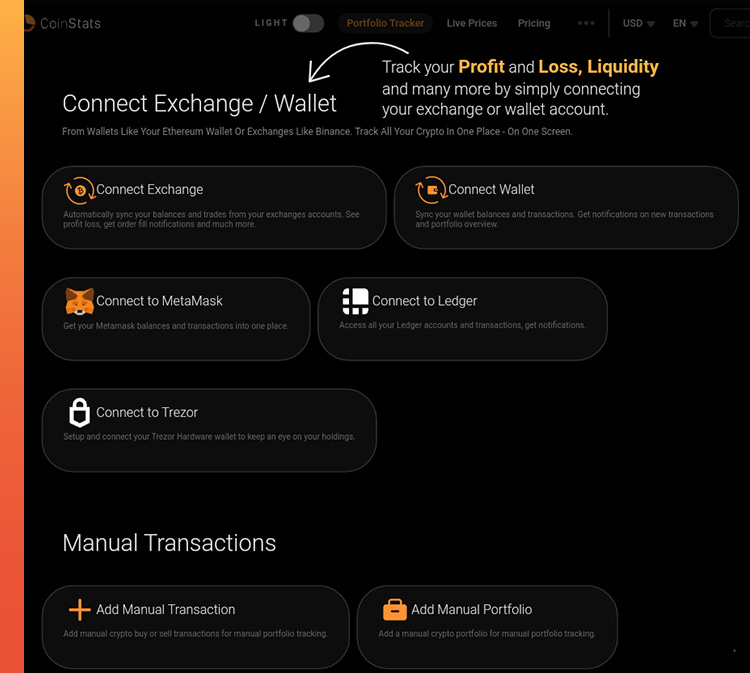 Here are the key features of CoinStats:
Linking your wallets with crypto exchanges like MetaMask, Coinbase Pro, Binance, and others
Tracking and following crypto live price updates for up to 7000 cryptocurrencies
Providing extensive charts and analytical data
Advanced filtration research on certain crypto coins
Trading, sharing, and comparing your crypto portfolio with friends and catching up on crypto trends with daily crypto news
Pricing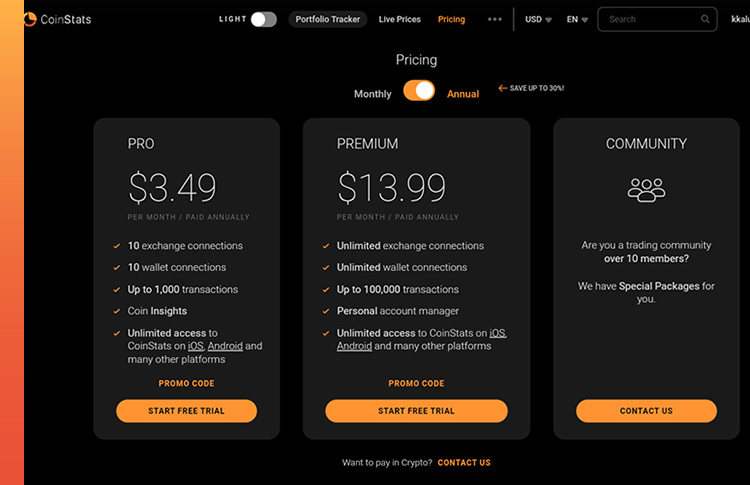 With CoinStats, you don't have to worry about paying for services or features you don't need. Its pricing is based on the number of connected wallets and exchanges.
The starting price is as low as $3.49 per month, allowing you to connect to a maximum of 10 wallets and 10 exchanges. It also allows you to manage up to 1000 transactions. 
CoinStats also gives you a free trial to test out each feature before committing to a plan.
CoinMarketCap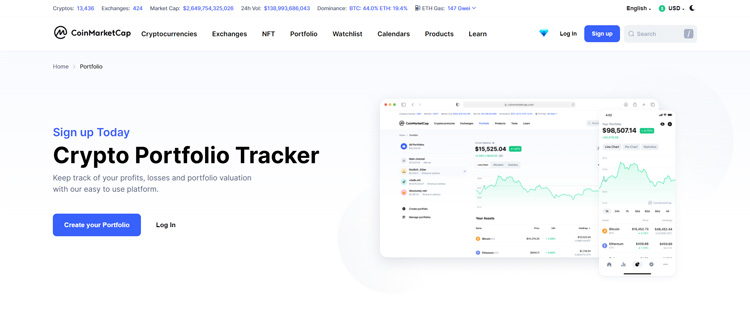 Website: https://coinmarketcap.com/portfolio-tracker/
CoinMarketCap is the most referenced website for price-tracking crypto assets. It aims to make sure that crypto is discoverable and can be tracked from any exchange. Founded in 2013 by Brandon Chez, CoinMarketCap is user-friendly and lists the top 100 cryptocurrencies by market capitalization. It provides information about the current market cap, price, 24-hour trading volume, the circulating supply, the percentage change in value over the previous 24 hours, and a seven-day price graph for each digital currency. Additionally, CoinMarketCap also includes historical performance charts, total supply, trading pairs, 24-hour volume, etc.
Investors can also see the current price across different exchanges and compare them to determine the best option for buying or selling. Furthermore, CoinMarketCap also lists lesser-known digital currencies.
CoinMarketCap has a market cap of over $2 trillion and supports more than 400 exchanges and 12,000 cryptocurrencies.
Key Features of CoinMarketCap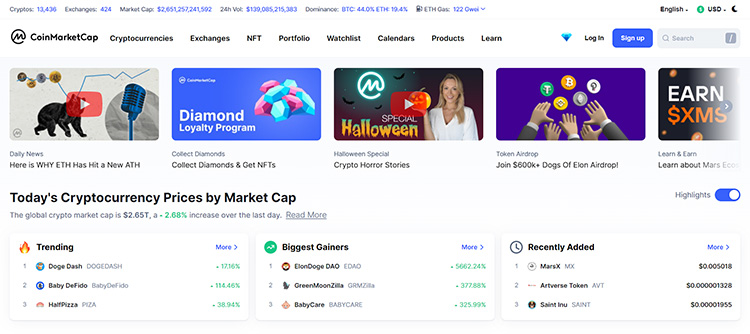 Here are the key features of CoinMarketCap:
Creating multiple portfolios and tracking your current ones
Providing real-time price data from major exchanges
Tracking your crypto balances from several exchanges and wallets, your profits and loss
Supports thousands of coins and tokens
Secure and takes privacy and data security very seriously
Available on mobile devices on iOS and Android
Pricing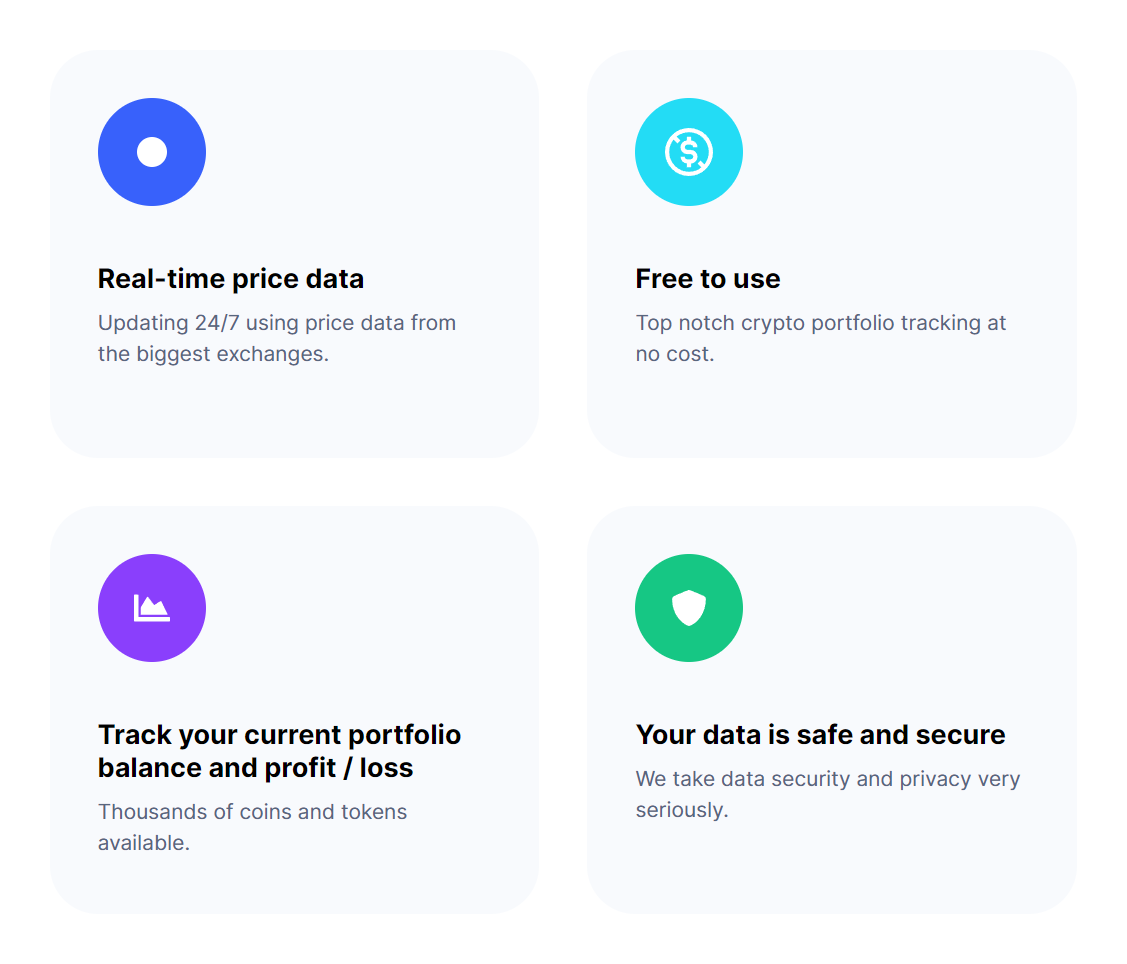 The CoinMarketCap is free. Its mobile versions are free to download and free to use.
Coin Market Manager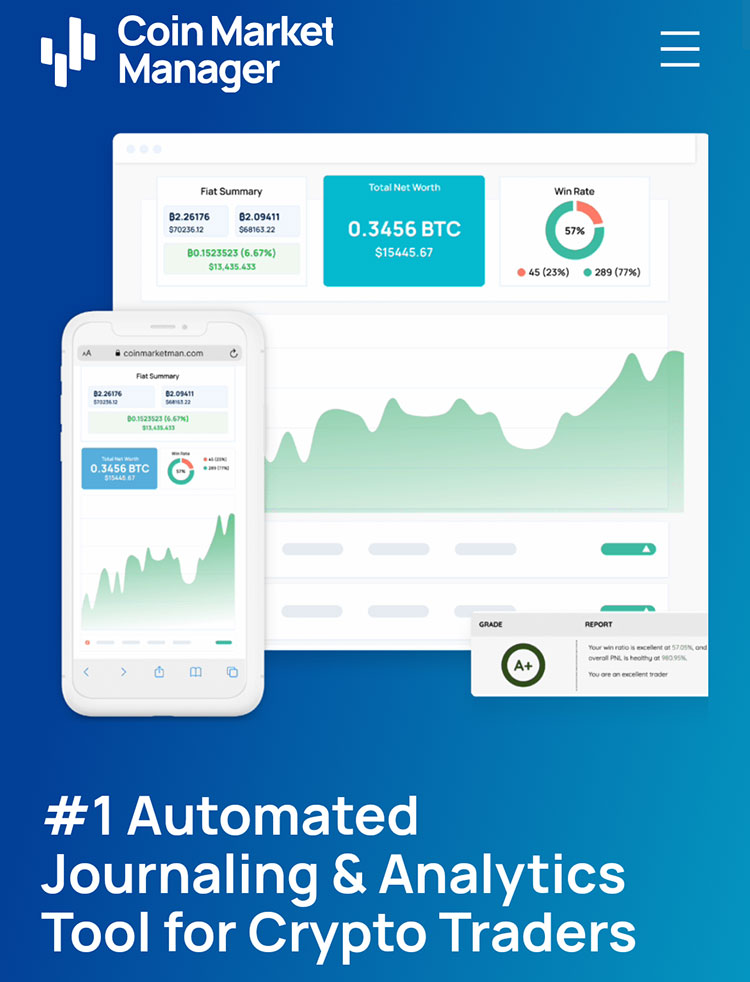 Website: https://coinmarketman.com/
Coin Market Manager (CMM) is an easy and efficient crypto portfolio management software. It lets you track your entire crypto portfolio in one place.  
Coin Market Manager is not just another coin tracker; it also helps you track breakeven in real-time on each cryptocurrency.  This is because it has incredible and powerful trade analytics and journaling tools. This portfolio management tool shows what price your crypto coin needs to be above so you can profit. You can also monitor your loss or profits in real-time against your initial fiat investment. 
Overall, Coin Market Manager offers impressive features for a low price. It also has an easy-to-use, simple user interface, making it easy for you to get started without much of a learning curve.
Key Features of Coin Market Manager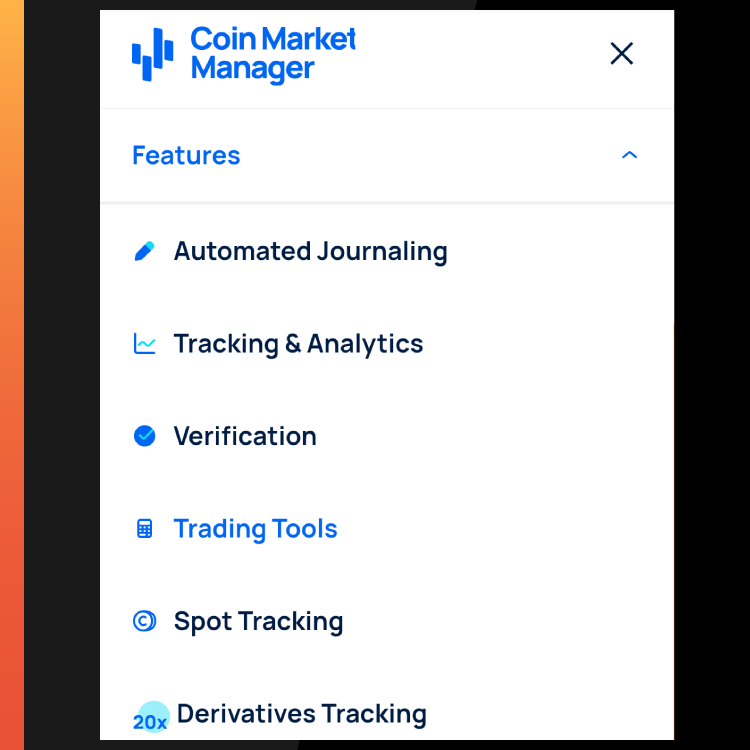 Here are the key features of Coin Market Manager:
Auto-syncing your trades. It automatically tracks and imports all your cryptocurrency investments from major exchanges
Math lab tool that monitors all your balances, withdrawals, and exchange deposits
In-depth trade analysis. It shows average losses and wins, win rates, and the possible time for trading
Real-time crypto reporting. It helps to track your portfolio market value in fiat and Bitcoin immediately
The Coin Market Manager free plan fits best if you're going to use it for tracking your portfolio alone. You can track across all your connected exchanges, manage only one account slot per exchange, and get updates on your coin prices.
Pricing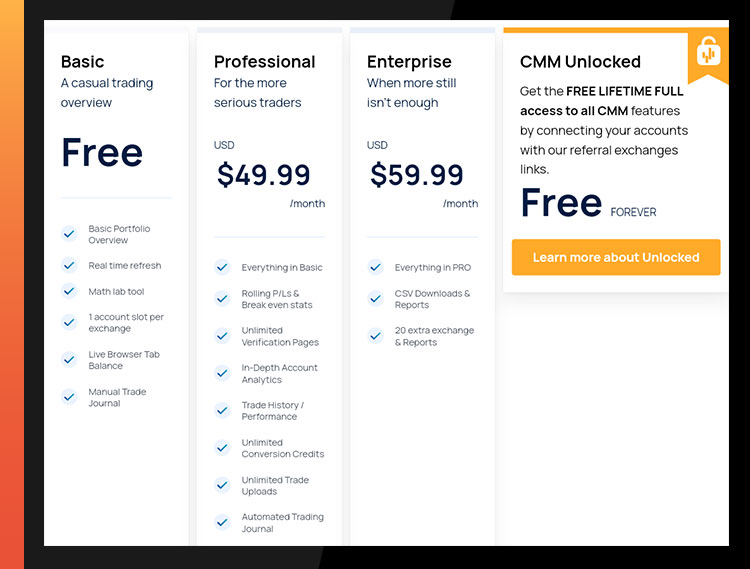 The paid plan starts from $49.99 and offers in-depth analysis and lifetime access.
Altrady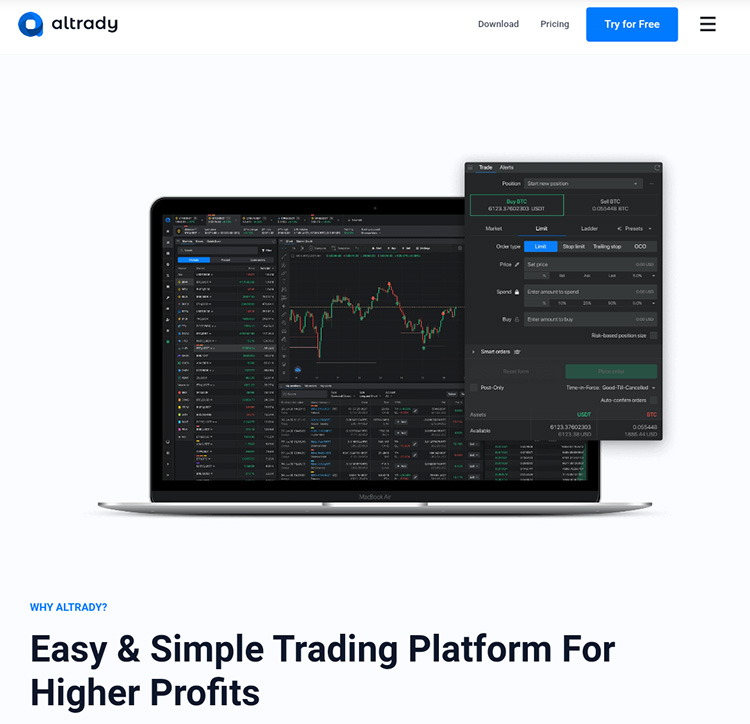 Website: https://www.altrady.com/why-altrady/ 
Altrad is a crypto tracker that can be integrated into several crypto wallets and exchanges, such as Binance US, Binance, Bitmex, Coinbase Pro, etc. 
The Altrady crypto portfolio management platform is an all-in-one crypto software with a cryptocurrency grid trading strategy. It features efficient trading with a beautiful dashboard that allows you to see all your assets in different exchanges at one glance.
Altrady automatically shows your crypto trade movement and the accurate value of your crypto assets on different exchanges and wallets. It shows these changes in a custom time frame and lets you know everything about the changes.
Altrady crypto portfolio management tracker gives you a detailed presentation of your portfolio, organized according to your asset distribution, per currency, and exchange.
Key Features of Altrady
Here are the key features of Altrady:
A 14-day free trial
An organized way to present data
Viewing your portfolio as a line chart, pie chart, or stacked chart
Fast and powerful technology
Comparing or exchanging between cryptocurrencies and fiat currencies
Real-time information powered by algorithms
Fully customizable dashboard, allowing you to set it up and configure your alerts
Learning opportunities from experts in the communities to help you grow your crypto portfolio
Pricing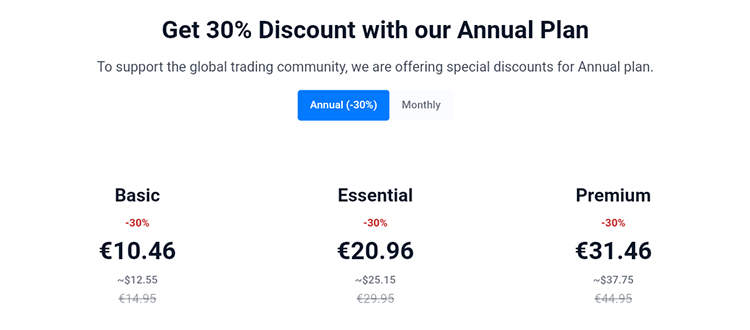 Altrady offers a 14-day free trial, after which you have to choose a plan that best meets your needs. It has a basic plan, essential plan, and premium plan. 
Altrady also has the option of signals only, where you can only pay for signals. It costs a little above $15.
CoinTracking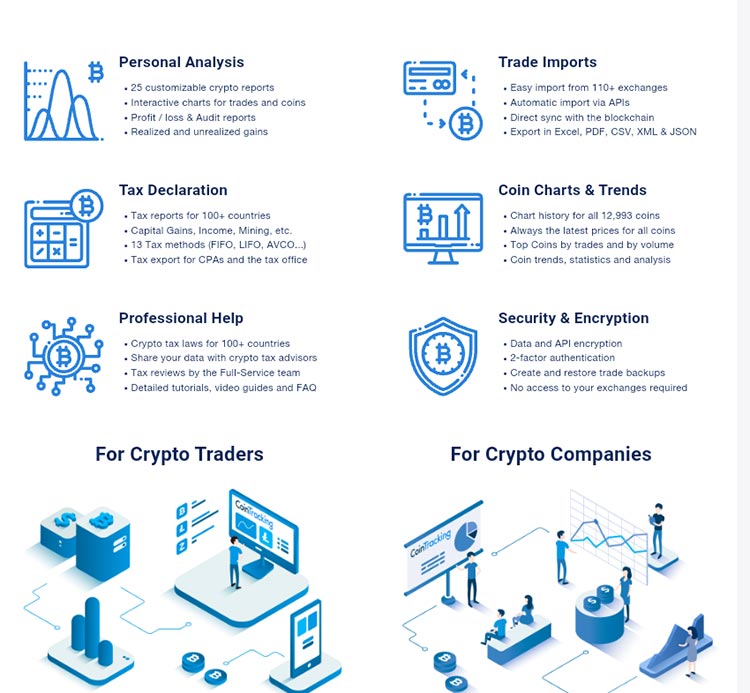 Website: https://cointracking.info 
CoinTracking is a free crypto portfolio tracker founded in 2013 as the world's first crypto portfolio tracker with a tax calculator. It's the leader amongst the crypto portfolio tracking apps and tax reporting.
CoinTracking lets you see how much you have in each of your connected cryptocurrency exchanges and check how well your crypto assets are performing in real-time with just one glance. It also allows you to track lost coins, incomes, and much more. The gains you can track include Airdrop incomes, mining incomes, and interest incomes. You can also track gifts and donations.
CoinTracking has features that analyze your crypto for you, eliminating the need for manual calculations. Its unique tax reporting features help you deal with your tax issues by generating reports on your balances, gains, and task declarations.
Key Features of CoinTracking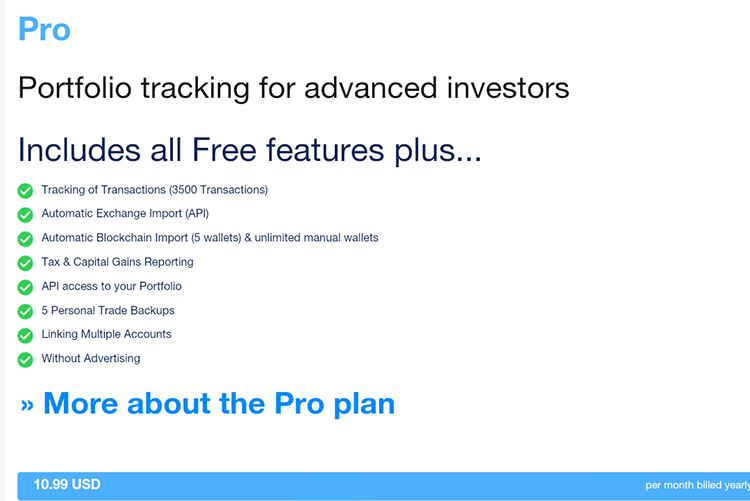 Here are the key features of CoinTracking:
Interactive charts and the historical data of all your investments
A personal portfolio analysis where you can see the value of your portfolio in cash or Bitcoin
Syncing your crypto portfolio with over 110 wallets and exchanges. This allows you to import trades directly from popular wallets and exchanges such as Ledger, Coinbase, Binance, etc.
Accuracy in calculating crypto taxes. It supports tax reporting for over 100 countries and uses 12 tax methods.
Pricing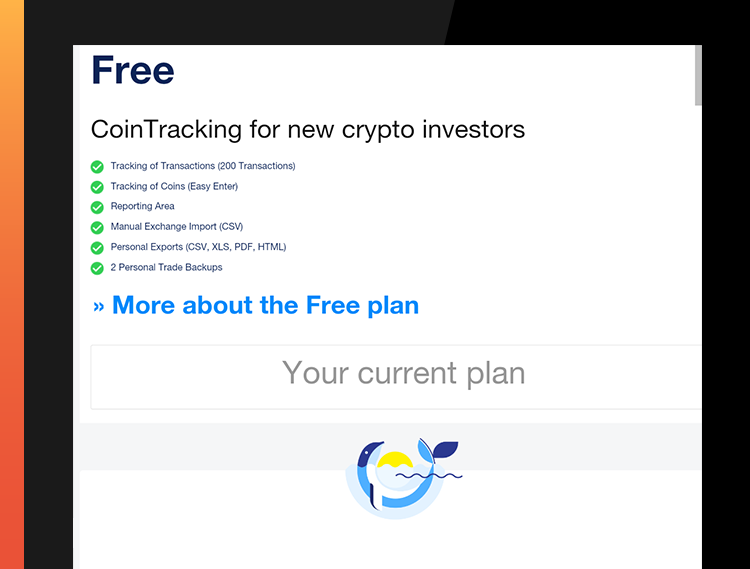 CoinTracking offers a free-to-use plan for basic features. It allows you to track up to 200 trades. You can upgrade to paid plans starting from $10.99 to manage more transactions.
ZenLedger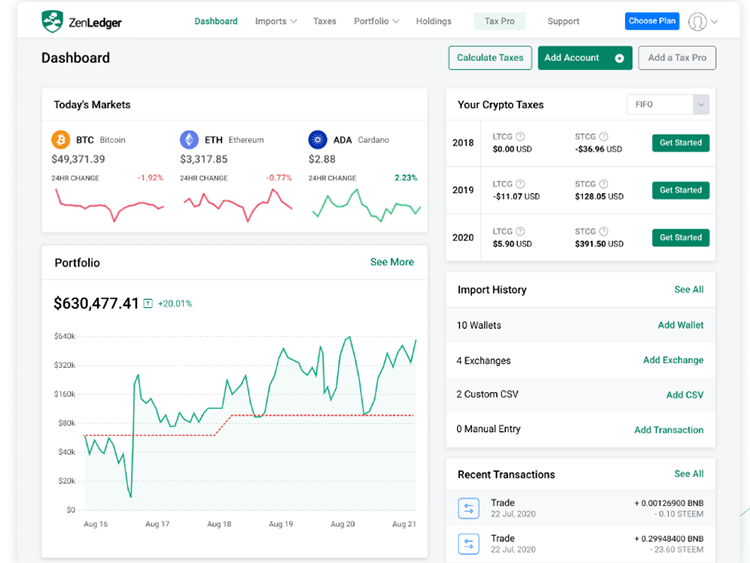 Website: https://www.zenledger.io/ 
ZenLedger is one of the top crypto portfolio trackers built by expert industry veterans in technology, finance, and accounting. It allows users to easily import crypto transactions, calculate gains and income, and prepare tax returns. ZenLedger helps crypto traders or investors to stay compliant and aggregate transaction integration into one simple dashboard. This is done across thousands of wallets, exchanges, and tokens.
The main aim of the ZenLedger tracker is to supply crypto taxes.
This crypto portfolio tracking app has free and paid plans. The free-to-use ZenLedger trackers allow you to analyze your portfolio performance. It also allows you to view your crypto coins and their exchange allocation insights. You can monitor your coins' price charts and trends in real-time.
Key Features of ZenLedger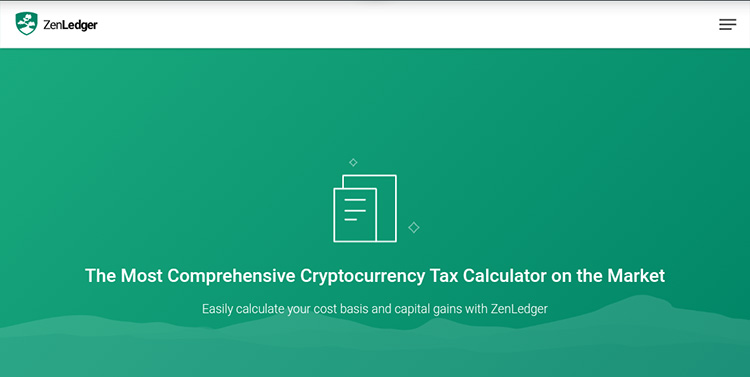 Here are the key features of ZenLedger:
Auditing reports. They use HIFO, FIFO, and LIFO
Support for over 400 plus crypto wallets and exchanges
Compatible with DeFi applications. But only for expensive plans
Tax calculation. But unfortunately, localized tax forms are only available in the United States
Pricing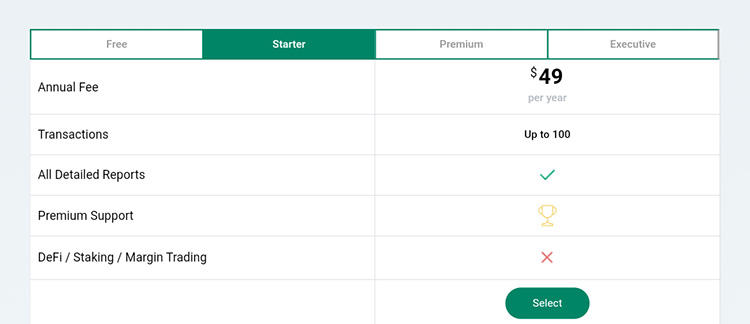 ZenLedger has a free plan which allows up to 25 transactions. With this plan, you cannot access its DeFi, margin trading, or staking.
The paid plans range from $49 to about $399.
CoinTracker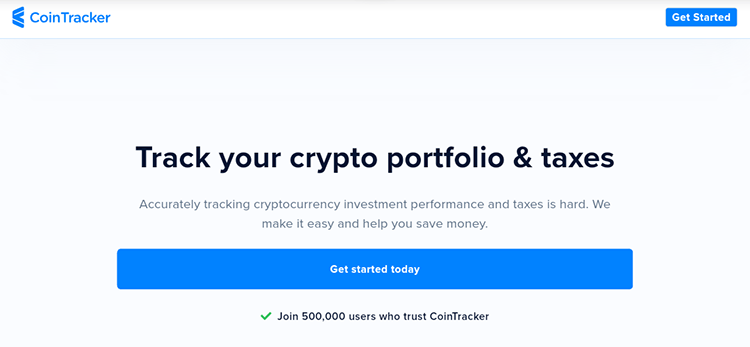 Website: https://www.cointracker.io/
CoinTracker crypto portfolio tracker works just like CoinTracking. It helps you to keep an accurate track of your crypto portfolio market value, the performance of your investments, and taxes in one place.
Once connected, CoinTracker starts tracking your deposits, withdrawal, trade, and other transactions. You can also view your wallet balances, trading details,  and the value of investments and changes within your account.
CoinTracker calculates your capital gains and losses and makes reporting and tracking easy with a single click. It has a simple-to-use and intuitive user interface.
Key Features of CoinTracker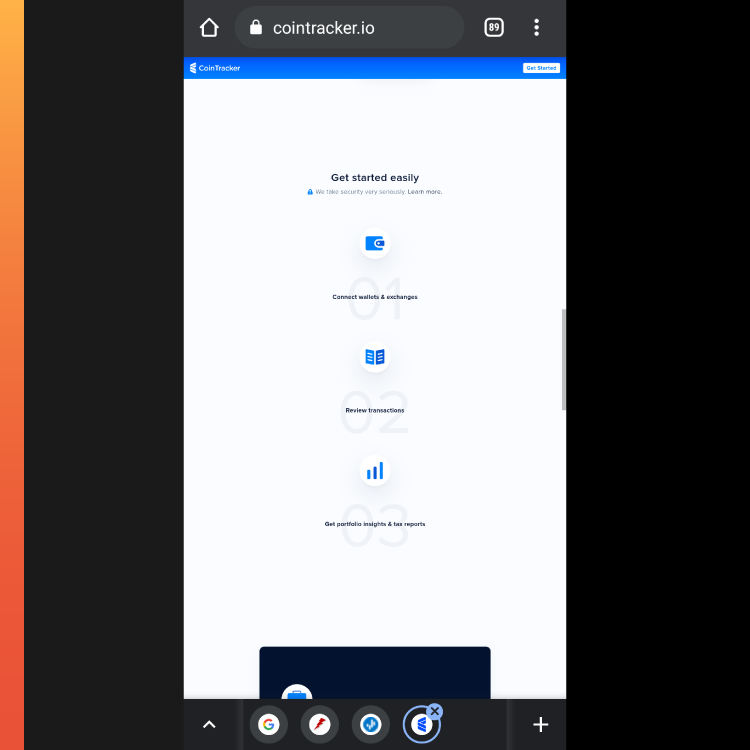 Here are the key features of CoinTracker:
Fully supported in the UK, US, Canada, and Australia. In every other country, it is partially supported
Easy-to-use, modern, and intuitive interface
Syncing your crypto trades and investments. It covers over 300 crypto wallets and exchanges
Supports over 2500 cryptocurrencies
Mobile applications, available on both Android and iOS that are easy to use
Supports CSV uploads and PDF tax forms download
Uses LIFO, FIFO, LIFO perpetual, and the average cost for their accounting methods
Pricing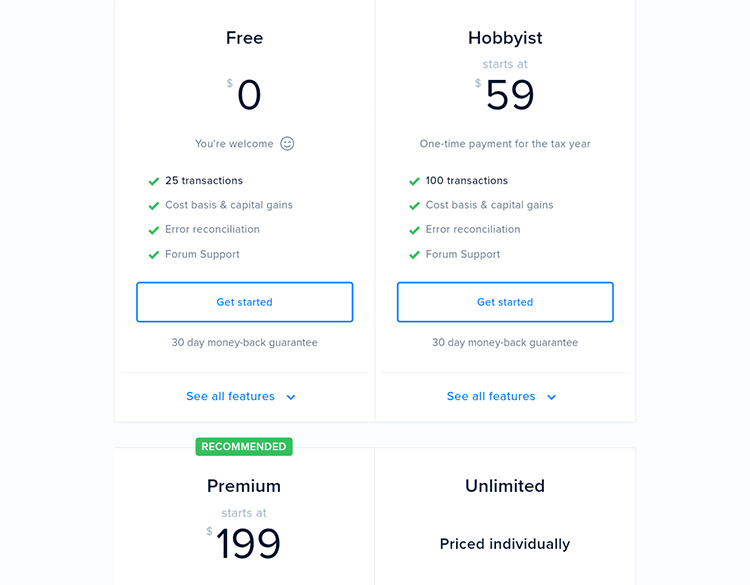 CoinTracker offers you a free plan to track up to 25 transactions and download free tax reports.
It costs about $59 per year to get access to more features like their Defi, email support, and margin trading. It allows for more than 100 transactions and comes as a premium or ultimate plan.
Kubera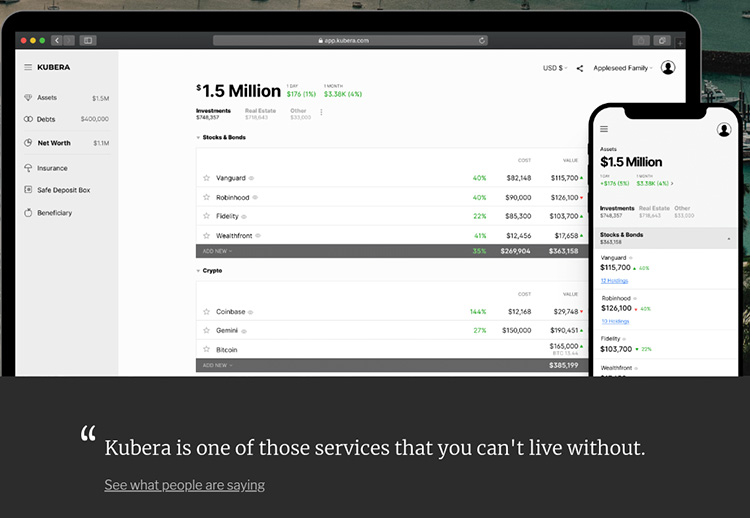 Website: https://www.kubera.com/
Kubera is an all-in-one portfolio tracker and wealth management platform for modern life. It gives you a clear overview of how much your crypto portfolio is worth. Kubera allows users to track net worth and investment returns for all major investment classes. You can track crypto coins, global currencies, stocks, precious metals, and even assets like cars, houses, URL value, and private equity.
Kubera portfolio management app assesses all these to monitor and track your assets.
Key Features of Kubera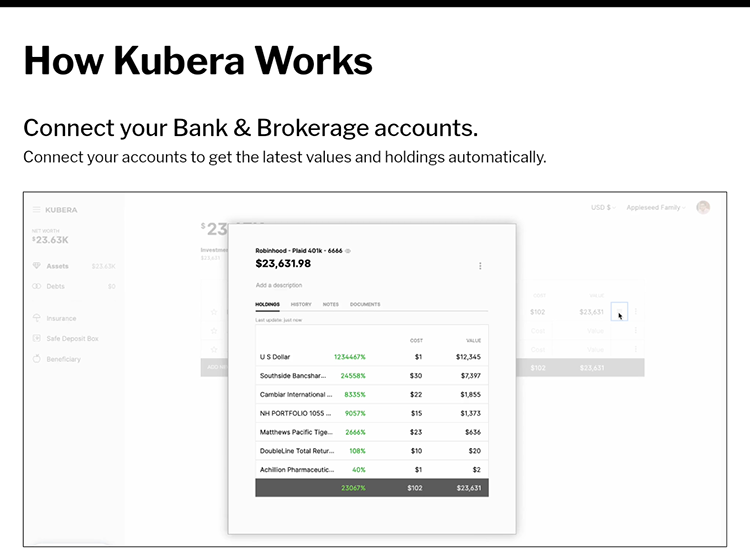 Here are the key features of Kubera:
Multiple portfolio creations. You can create as many crypto or financial portfolios as you want
Global financial integration. Making it easy for you to transfer crypto-assets to any fiat currency
Security and safety for your crypto assets
Automatic conversion between cryptocurrencies and/or cash
Pricing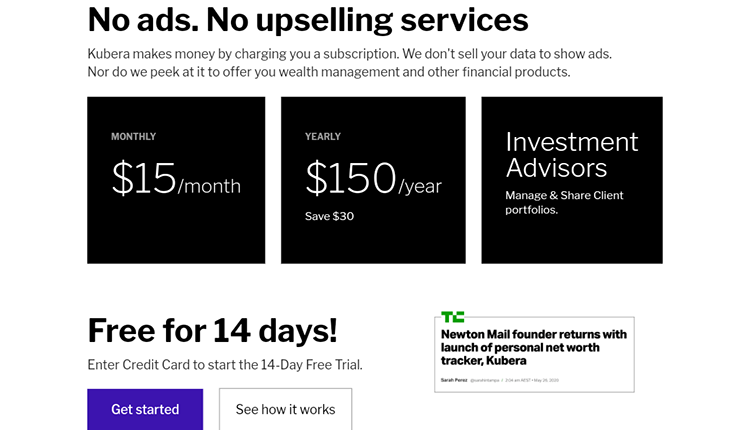 The Kubera crypto tracker has a free plan with limited access to its features. It costs $15 per month or $150 per year to get access to advanced features.
Delta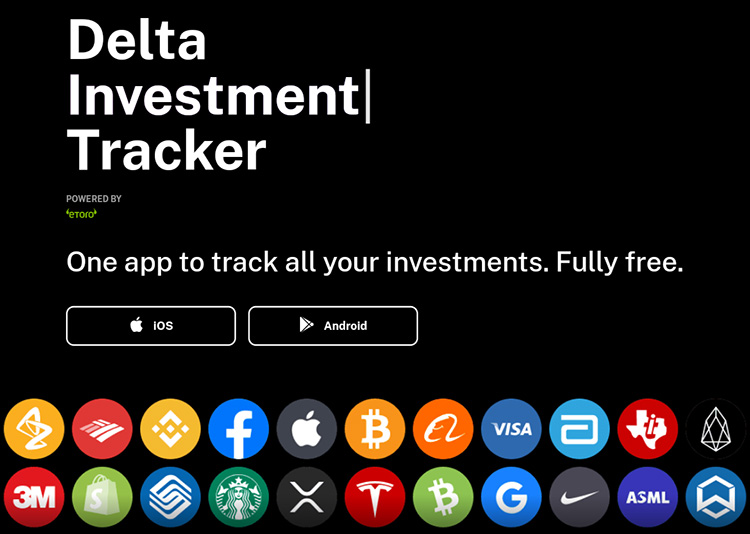 Website: https://delta.app/en 
Delta crypto tracker is a beautifully designed, highly functional crypto tracker. It was acquired by eToro in November 2019. Delta and eToro worked together to create a next-generation Delta app to include not only crypto tracking but stocks and other financial assets too.
Delta is an iOS and Android app that allows you to effortlessly track your portfolio value, profit, loss and learn about your current positions in your local currency. With Delta, you can track percentage changes in your portfolio and get notifications on your smartphone when a significant crypto change happens.
Delta is designed for crypto traders who love investing in several digital assets. It allows you to monitor the performance of all your cryptocurrencies and investments, such as stocks from Google to ETFs, Apple, futures, forex, etc. 
Key Features of Delta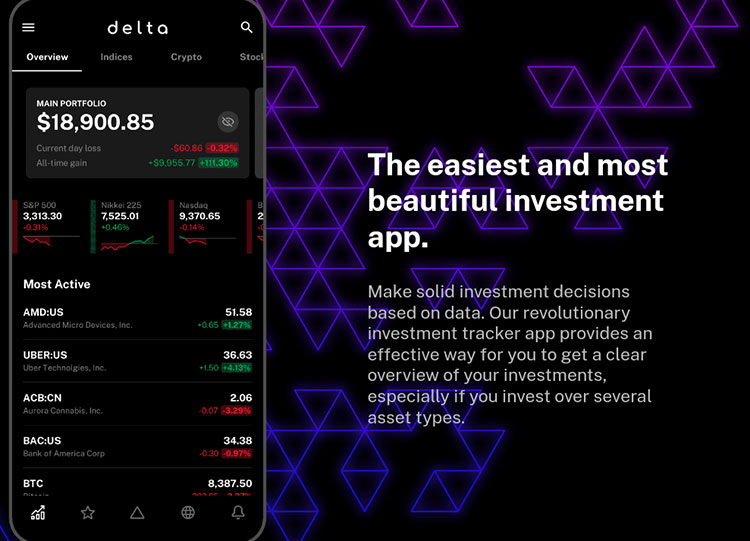 Here are the key features of Delta:
Supports up to 300 plus exchanges, i.e., Gemini, Binance, Coinbase Pro, and others
Allows you to keep track of all your crypto assets, over 7000 of them
Provides detailed trading analysis and supports multiple portfolios
Pricing
The Delta cryptocurrency portfolio tracker can be downloaded for free. Free accounts connect up to two wallets and two exchange accounts. 
To manage unlimited exchanges, you can use the pro version which costs $59.99. It also gives access to advanced metrics and analysis.
Zerion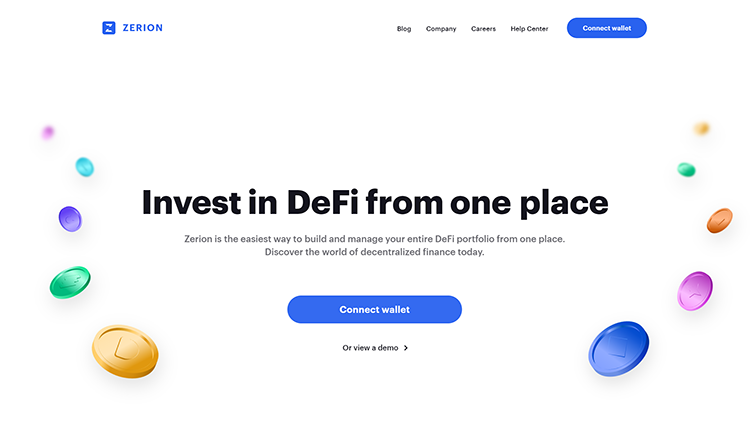 Website: https://zerion.io/
Zerion is an all-in-one decentralized finance (DeFi) interface. It allows you to track and manage your DeFi portfolio.
Zerion is designed with simplicity, user-friendliness, and clarity in mind. With an efficient interface, Zerion supports top DeFi applications, over 50 DeFi protocols. Zerion has a minimally invasive approach, meaning it can only read your balance, but can't access your funds.
You can see the value of your crypto portfolio on the dashboard at a glance.
Key Features of Zerion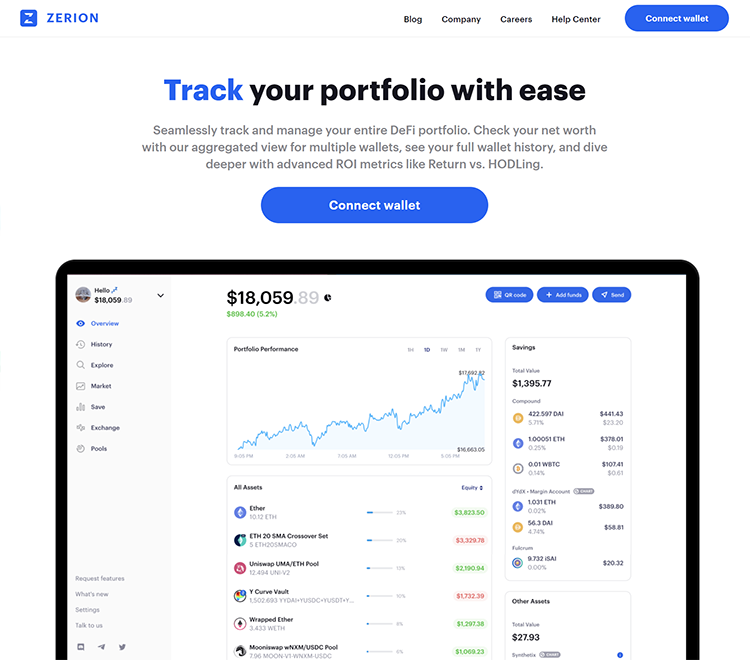 Here are the key features of Zerion:
The worth of your DeFi assets, crypto portfolio performance, and other digital assets displayed
Buy and sell DeFi tokens
Fiat currencies via bank transfers or credit/debit cards supported
Rate comparisons across the crypto market data, lending, borrowing, staking, and investing in digital assets
Tracking your portfolio prices and performance
Mobile app available for iOS and Android users
Pricing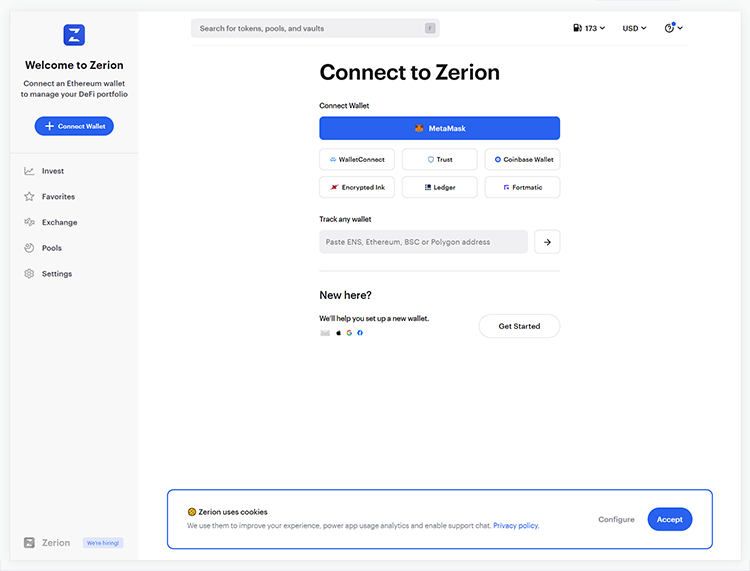 The best part of the Zerion cryptocurrency portfolio tracker is that it's a free crypto portfolio tracker. Free to download and free to use.
BlockFolio (FTX)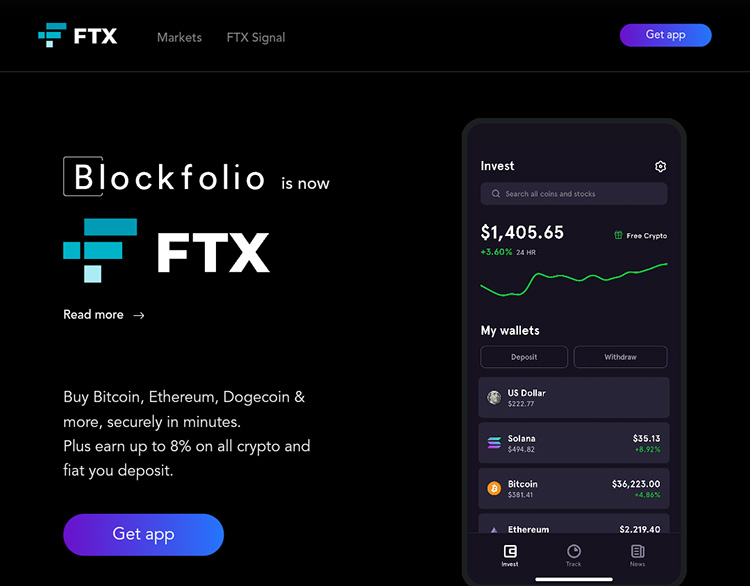 Website: https://blockfolio.com/ 
Blockfolio is a top cryptocurrency tracking app that supports over 10,000 types of cryptocurrencies. Recently, it was acquired by FTX and renamed, and has since significantly extended its functionality.
In addition to tracking your crypto portfolio, BlockFolio (FTX) provides the latest news on crypto, the latest prices, market data, and direct updates. 
The BlockFolio (FTX) signal is a communication platform built into the app and designed to make communication within token communities easy. It enables exclusive updates directly from your favorite crypto teams, such as Monero, NEO, Dash, NEM, Zcash, Ontology, Kyber Network, and many more.
Key Features of BlockFolio (FTX)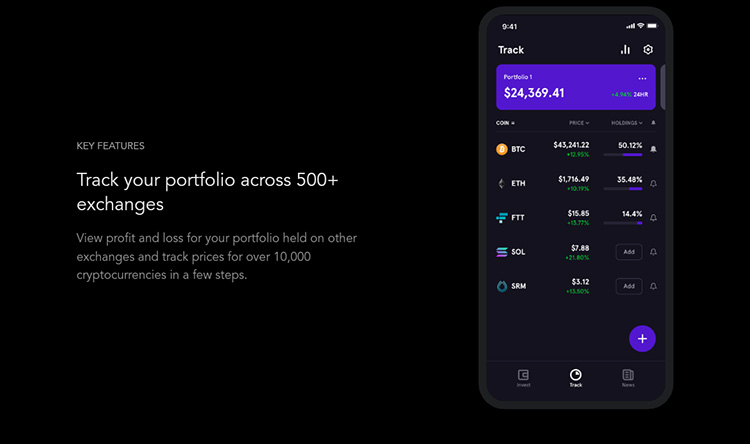 Here are the key features of BlockFolio (FTX):
Syncing trade from over 500 exchanges
The latest news in the crypto market, the exchange price, and the market analysis
Candlestick charts and order book information for each crypto in real-time
Providing the value of your cryptocurrency in over 100 different fiat currencies. You can also see their equivalents on other crypto bases
Tracking your portfolio prices and performance
Available on Android and iOS and 24/7 support
Pricing 
BlockFolio (FTX) is a free crypto portfolio tracker. It is free to download and use.
The Bottom Line
We have reviewed the eleven best crypto portfolio trackers in 2021 to help you choose a tracker that can take your cryptocurrency investment to the next level.
Take advantage of these all-in-one trackers to track your crypto investments, transactions, trades, and crypto values with ease.
This post will regularly be updated in accordance with the ever-evolving crypto world, so remember to check it regularly to get updated with the latest information and discover more.
FAQs 
How Do I Track My Crypto Portfolio in 2021
Crypto portfolio tracking used to be a time-consuming and complicated task. The solution came with the recent development and widespread use of crypto trackers. They offer a comprehensive view of all your assets and allow you to track your portfolio easily. Crypto trackers also integrate with several wallets and exchanges to give you the total value of your portfolio.
Which Is the Best Cryptocurrency Portfolio Tracker
Here is a list of the top crypto portfolio trackers: 
CoinStats
CoinMarketCap
Coin Market Manager 
Altrady 
CoinTracking
ZenLedger
CoinTracker
Kubera
Delta
Zerion
BlockFolio (FTX)
Is Coinstats Safe to Use
CoinStats is among the best, safest, and most popular crypto portfolio trackers in 2021. The functionality of CoinStats is boosted by its automated exchange. The process is completely straightforward and secure. CoinStats does not have access to your funds since you're only submitting an API key that has limited functions.
A Public API allows CoinStats only to read your wallet's balances without having access to your funds. With this, even if a hacker hacks CoinStats (a highly unlikely scenario), they can't steal your funds.
What Is the Cost of a Crypto Portfolio Tracker
Most crypto portfolio trackers out there are free, but many offer additional features that come with a fee. It is advisable to first check out the basic or free trials to get an insight into what the paid version looks like.