Unlike other layer-2 blockchain solutions, Aventus is enterprise-grade, having an agreement to onboard over 58 million transactions from a variety of clients across various sectors.
The Aventus Staking Program is already 80% full and has begun processing the first of at least 58 million transactions.
The publicly stated goal of the company is to reach one billion layer-2 transactions in the next couple of years. Stakers receive their share of transaction fees as part of the network's proof-of-stake transaction validation model. The staking program will close once full.
Here's everything you need to know about the Aventus Staking Program and how you can get in before it closes.
About Aventus Network
What began as a blockchain-based ticketing solution to combat ticket fraud has expanded to become a customisable layer-2 blockchain network that lets businesses & dapps build on Ethereum and other chains, at scale, to process transactions at 100x the speed and 1% of the cost.
Everyone knows that Ethereum fees are at an all-time high and scalability is limited to just 13 transactions per second. That's not enough.
Aventus Network is a layer-2 solution that brings the scale and privacy of a permissioned blockchain with the security and interoperability of public blockchains — with none of the drawbacks of either.
All current and future transactions will flow through the main net also. You can find full transparency of all Aventus Network traffic and fees at explorer.aventus.io.
What's more, since many Ethereum competitors exist, as well as other private / permissioned networks,  Aventus builds using substrate, which makes it simple to become a parachain and benefit from full Polkadot interoperability —enabling enterprise layer-2 scale across chains.
Major Upgrade to Aventus Network Now Supports NFTs Cross-Chain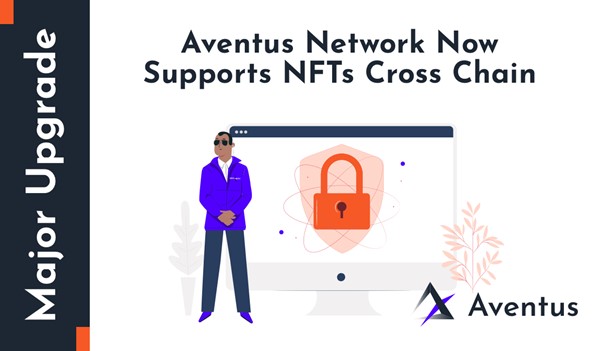 Over the course of 2021, Aventus has already built a fork of Polkadot's Substrate to solve real-world issues, building strong relationships with a range of ambitious, high-growth businesses, from ticketing behemoth Live Nation France as reported by Bloomberg and video game content platforms — like fruitlab — to credit card cashback programs — like cashbackAPP.
Now, significant updates to Aventus Network platform architecture will facilitate exciting new NFT partnerships that will reshape and reignite the market.
Creators can now mint NFTs on the Aventus Network mainnet for a fraction of the cost of any other blockchain network. Aventus NFTs are fully compatible with Ethereum NFTs, and therefore can be moved seamlessly from one blockchain to another.
What's more, unlike other NFT blockchains, the NFT-Manager pallet on the Aventus Blockchain is designed to support Royalties and is directly built into the Blockchain. This ensures that creators who should receive royalties have a provable claim via an immutable ledger, on their royalties.
This major upgrade for NFTs broadens the network's appeal as a full-service blockchain solution for any sector, any application, and any innovation, massively increasing the transaction throughput potential of the network with associated fees for stakers.
The Aventus Team
Aventus Network is the brainchild of Co-founder & CEO Alan Vey, a Forbes 30 under 30 winner for his work as the co-founder & CEO of the Aventus Network.
Before moving into Blockchain, Alan worked at Deloitte in the Entrepreneurial Business Department and macro hedge fund Brevan Howard. He completed a Master's Degree in Artificial Intelligence at Imperial College London. His master's thesis was on blockchain technology, during which he co-founded Aventus.
Supporting Alan is an experienced leadership and advisory team. Notably, one key advisor is Danny Masters, Executive Chairman of CoinShares, a company that has accumulated over $3B in assets in XBT Provider listed products while having attracted over 40,000 clients.
Introduction To $AVT & The Aventus Staking Program With More Than 58M Agreed Transactions
Using a Proof-of-Stake node validator model, the Aventus Network pays Validators their share of fees from every transaction processed on the node to which they stake their $AVT.
There is a total maximum supply of just 10m AVT with a market cap of less than $5m as you can see at https://www.coingecko.com/en/coins/aventus.
The network relies on AVT holders as Validators who process transactions in return for a fee. The Aventus Network will launch with 10 nodes, each with an equal probability of selection to process transactions (i.e. 10% probability).
Each node will earn fees associated with the processed transactions at an average of $0.01 per transaction. And each node will have a total stake of 250,000 AVT.
Validator transaction fee rewards are paid in proportion to the amount of AVT a Validator associates with a node. E.g. If a holder owns 25,000 of a node's 250,000 AVT, they will receive 10% of all transaction fee rewards from that node.
According to the active Aventus telegram member Blake, the staking earning rate is better than crypto lending platforms like Nexo. In addition, the staking rewards earned are not diluting your original holdings as Aventus has a fixed supply.
"A lot of staking rewards with other projects may offer higher earning rates but in reality, you are not really earning anything as those staking rewards are coming from minting more tokens and adding to the total token supply," commented Blake.
How To Stake
Validators will be able to withdraw their proportional share of transaction fees associated with their nodes on a monthly basis.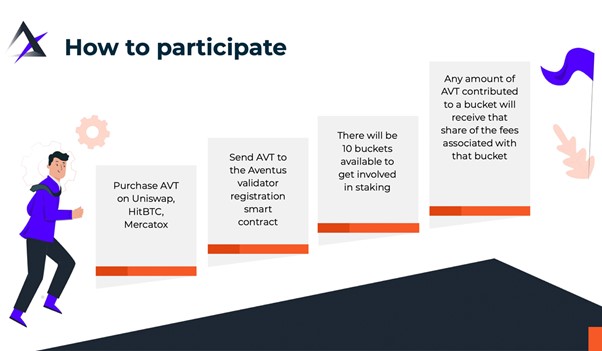 Validators will be able to deposit any amount of AVT to any of the 10 nodes using the Ethereum smart contract provided. The smart contracts have undergone a security audit by an independent third party.
The Validator Registration Program is currently 80% full and will close immediately at 100%.
Register to stake now at https://www.aventus.io/ecosystem/.
You can find a step-by-step guide on how to stake at https://medium.com/aventus/the-step-by-step-guide-to-the-aventus-validator-staking-program-e3ccf4b47c8e.