A close look at Solana's chart reveals intriguing possibilities, most notably an emerging inverse head and shoulders pattern.
This inverse head and shoulders pattern is historically recognized as a bullish reversal sign. It represents a series of troughs, with the middle trough (head) deeper than the two surrounding troughs (shoulders). Solana seems to be sketching out this configuration, suggesting that we might be on the cusp of a considerable upswing. However, this potential upside hinges significantly on SOL's ability to penetrate a key resistance point: the neckline.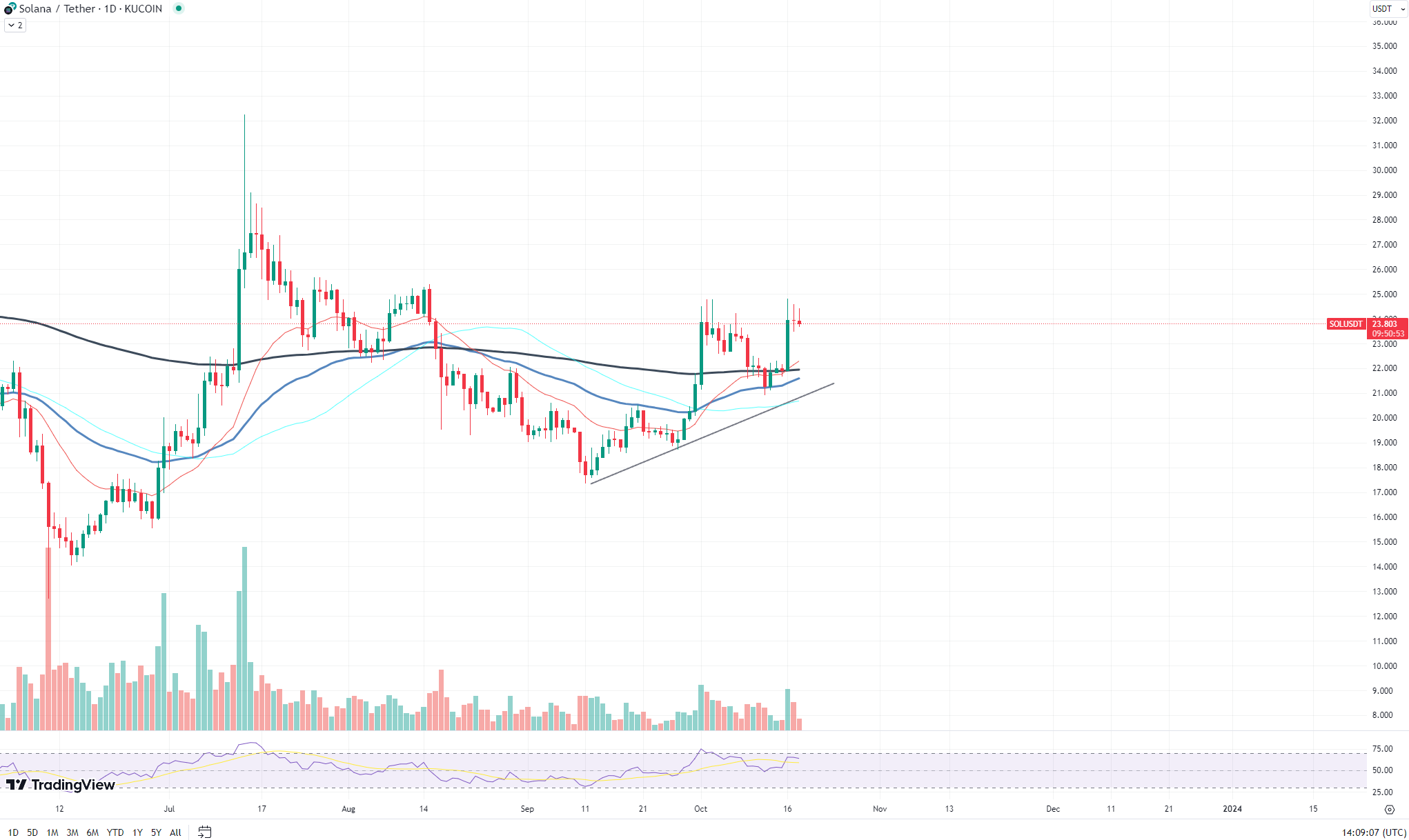 A failure to break through the neckline could dampen the bullish momentum and possibly signal a continuation of the downtrend. On the flip side, a successful breach could pave the way for substantial gains, cementing Solana's position as a crypto frontrunner.
Additionally, there is the impending formation of a "golden cross." This event occurs when a short-term moving average, such as the 50-day, crosses above a long-term moving average, like the 200-day. Such a move is traditionally perceived as a bullish sign and could act as a double boost for SOL's prospects.
While the current Solana chart patterns signal potential bullish reversals, it is crucial to monitor SOL's performance around the neckline closely. A breach or a rejection at this juncture would significantly influence the coin's trajectory in the coming weeks.
Unbreakable SHIB trendline
Shiba Inu remains under significant pressure, with a relentless downward trendline illustrated on the daily chart of the asset. The aggressive decline, highlighted by the almost overbearing force of the trendline, casts shadows over the once-celebrated digital asset.
From its explosive rise to prominence in 2023, Shiba Inu, much like its peers in the meme crypto space, captured the attention of countless retail investors. However, the chart tells the tale of an asset that was unable to escape the gravitational pull of a descending trendline after the bullish rally was over.
Peering beyond just Shiba Inu, there prevails an overarching sentiment that meme coins, in general, are in a frail state. The speculative fervor that drove their meteoric rises seems to be waning. While they offered novelty and excitement during their heyday, the broader market sentiment now suggests a shift in investor preference.
There is a growing thesis among crypto enthusiasts and investors that meme-based assets are gradually losing their traction on the market. This transition, many believe, is due to renewed interest in foundational cryptocurrencies like Bitcoin and Ethereum.
Dogecoin faces failure
Dogecoin (DOGE) seems to be struggling amid the broader market optimism. As portrayed in the latest chart, Dogecoin's relentless endeavor to breach the 50 Exponential Moving Average (EMA) barrier has met with another failure, marking this as its third unsuccessful attempt. This paints a picture of an asset that is battling upstream even when its peers are swimming with the tide.
The recent trading patterns for DOGE reveal a sequence of valiant breakouts, each trying to pierce through the formidable 50 EMA ceiling. However, much like the two preceding attempts, the latest push, too, has been rejected, further emphasizing the coin's struggle to reclaim its former glory. This is particularly glaring when juxtaposed with the performance of the broader market, which has shown positive momentum in the same time frame.
What is causing this slump for Dogecoin? While market dynamics are multifaceted and cannot be distilled into a single cause, one glaring issue stands out: the lack of tangible use cases. Many cryptocurrencies have sought to carve out niches for themselves, be it in decentralized finance (DeFi), non-fungible tokens (NFTs) or other realms of the digital economy. Dogecoin, born from a meme and largely driven by social media hype, has not been able to transcend its origin story and evolve into a utility-driven asset.