Data shows a large amount of shorts have been liquidated in the Bitcoin futures market in the past day as BTC pushes above $19,000.
$93 Million Bitcoin Shorts Were Wiped Out In Only 1 Hour
As per data from the on-chain analytics firm Glassnode, short liquidations have spiked in the past day. A "liquidation" takes place when a derivative exchange has to forcibly close up a contract on the Bitcoin futures market.
Contracts usually liquidate when a certain percentage of the margin – the collateral amount that the holder had to put up in order to open the position, is lost due to the BTC price moving opposite to the direction the investor bets on.
In the crypto futures market, large liquidations happening at once isn't an uncommon sight due to a couple of reasons. First, most of the assets in the sector are generally very volatile, so sudden price swings can take place without warning.
And second, many derivative exchanges offer leverage (a loan amount taken against the margin) as high as 100x in the original position. High leverage being accessible in a volatile environment like this results in a large risk of positions being liquidated.
Now, the relevant indicator here is the "total futures liquidations," which tracks the total amount of both short and long liquidations that are taking place in the Bitcoin futures market currently.
Here is a chart that shows the trend in this metric over the last few months:
The value of the metric seems to have been deep red in recent days | Source: Glassnode on Twitter
As displayed in the above graph, the Bitcoin futures liquidations have mostly involved short contracts in the last few days. This trend makes sense, as a sharp upwards move in the price was the trigger for these liquidations.
During the FTX crash back in November, which observed the opposite kind of price move, a large number of longs were wiped out instead, as can be seen from the chart.
Usually, a large enough rapid move in the price can trigger simultaneous mass liquidations that only feed said price move further. This amplified price move then liquidates even more contracts, and in this way, liquidations cascade together. A mass liquidation event like this is popularly called a "squeeze."
Glassnode notes that $93 million in short contracts were flushed in just a single hour during the past day. These rapid liquidations suggest the Bitcoin rally triggered a short squeeze in the futures market.
The price has now shot up even more following this squeeze, as is generally the case, and BTC is now above $19,000 for the first time since the collapse of the crypto exchange FTX.
BTC Price
At the time of writing, Bitcoin is trading around $19,000, up 13% in the last week.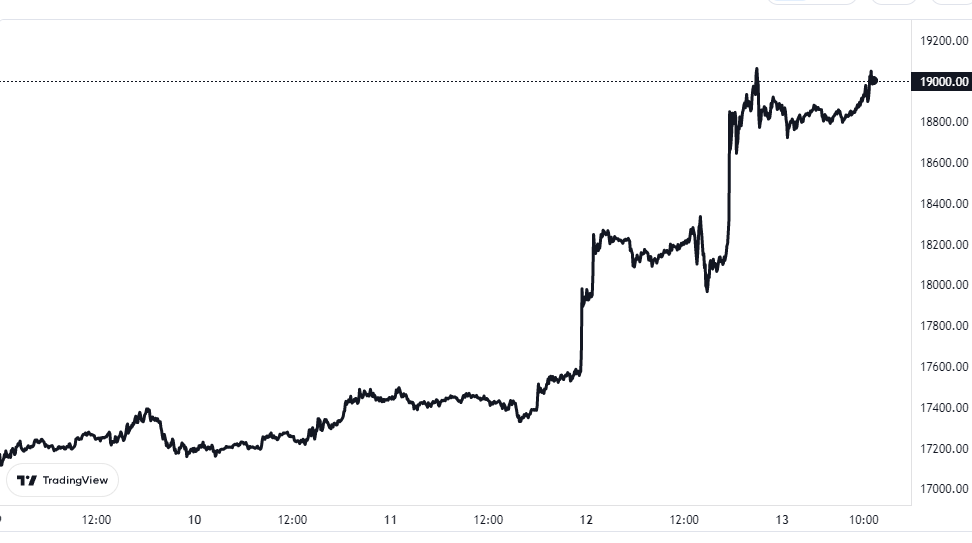 Looks like BTC has climbed up in the last couple of days | Source: BTCUSD on TradingView
Featured image from Kanchanara on Unsplash.com, charts from TradingView.com, Glassnode.com